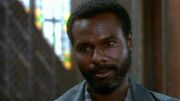 Captain
Adam Fuller
was a police captain who succeeded
Captain Richard Jenko
as the commander of the 21 Jump Street team. He had the reputation of being more stern than his predecessor. Despite his no-nonsense approach, Captain Fuller did have confidence the team could perform their assignments without constant oversight. Most episodes were centered on the actions of the team while Fuller was the officer they reported to. However, some episodes did focus on Captain Fuller, such as when he found himself kicked off the force without reason, and the 21 Jump Street team realizes this was on orders of the mayor, as they happened to catch the mayor's son in a drug bust.
Ad blocker interference detected!
Wikia is a free-to-use site that makes money from advertising. We have a modified experience for viewers using ad blockers

Wikia is not accessible if you've made further modifications. Remove the custom ad blocker rule(s) and the page will load as expected.